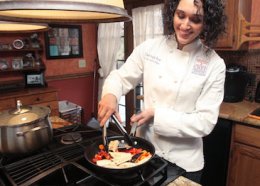 Become a Master Chef for 1 Day!
Are you a passionate and talented cook at home? You're that not yet discovered marvel, presenting your magic only in your own kitchen at home? Shame!
Share your art with the world and invite your friends to a special night in your own professional restaurant that's yours for a day: become a Master Chef for One Day!
An experience of a lifetime: create an extraordinary evening for your guests and for yourself. And while they all enjoy your signature dish, everybody automatically contributes to our Clean Cooking cause (included in the price of the dinner), making cleaner and healthier kitchens possible in Africa, saving lives of women and children in the world's poorest areas!